Security Cameras at SMS
Putting student and campus safety first.
Have you noticed the new security cameras around SMS? Do you want to know if the cameras are turned on? We've got all the answers here.
We asked Mr. Hom about the cameras because he is the Assistant Principal in charge of security issues at Sepulveda Middle School.
 First, we asked him if it was our administrators' choice to put up the cameras or not. He said, "Yes, it was a choice, but either way they (LAUSD) would still have put them up anyway." When we asked him how many cameras are in the school, he said, "A LOT OF THEM, we can't keep track." Our own investigation showed that there are at least 50 cameras both inside and outside the school. Many of the camera units actually contain multiple cameras to catch all possible areas.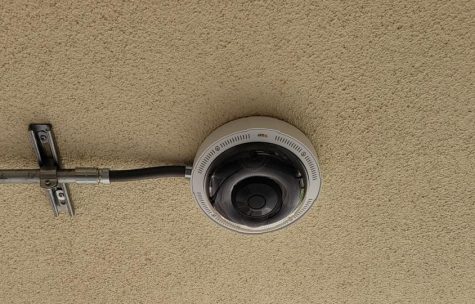 "The purpose of having the cameras is for the school's and the students' safety," explained Mr. Hom. "They are always on at all times," he added, referring to the security cameras.
Finally, we asked if LAUSD will ever put cameras in classrooms. Mr. Hom said, "No. That is disrespectful and invades students privacy. Also, there are no cameras in the restrooms."
Some SMS staff members spoke to us about their feelings about the new cameras. They wanted to stay anonymous. "The cameras will help with the students throwing trash on the floor." Another said, "They keep students safe from students doing something they are not supposed to do." One staff member even showed gratitude for the new cameras, expressing, "Thank you for the cameras. It keeps more eyes on the students."