A Day in the Life of ASB Students
Have you ever seen an ASB student working around campus and wondered "What do they do during 6th?" This article has the answer for you. MY reporting partner and I were lucky enough to shadow ASB students for a day to see how things work in and around Room 11.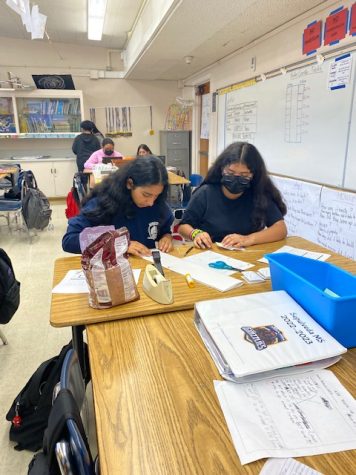 At the beginning of the Period 6 class, everyone sits down and starts working on a warm up. After working on the warm up, everyone gets handed a survey to answer some questions such as what jobs they do, what jobs they would like to do and what jobs they didn't enjoy. During the warm up and survey, everyone is very social and work together. After the warm up and survey, every student goes to do their assigned jobs such as making "grams", posters, birthday pencils and staff appreciation items.
During their work time I was able to ask Giovanni Ramirez how he felt about ASB. Ramirez stated that "the best part of ASB is that you get to work with friends," adding that "it really changed the way I work."
Throughout the day, students come and go as they are attending to their multiple activities. After observing some tables, everyone works together to complete their tasks. I asked the teacher, Ms. Caino, what she thinks about this ASB class of students. Caino easily responds, "The best part is that they all work together." When asked if she has anything to say to sixth graders who would like to join ASB next year, Caino says, "If they like helping out, community service, and activities then they would be a good candidate."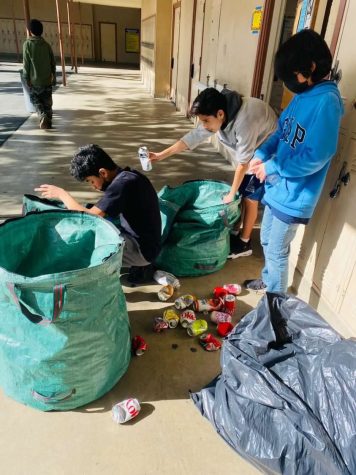 My reporting partner, Isaac, followed the ASB students who recycle cans around campus and this is what he learned about what they do:
My shadowing adventure started with the ASB student recycling team, by getting ready to leave Room 11 (ASB 6th Period room) and start recycling at Room 7. After that we went to Room 13, and on and on to all the classrooms on the recycling list. The recycling was very fun. The students were very energetic. After the recycling, we all went back to Room 11 and started crushing the cans. It was very interesting to see what the staff and teachers were drinking during the weeks. I learned that the recycling takes the ASB students  three-quarters of the period to complete. Everyone works until the last minutes of the period. When the bell rings, all the students clean up what they were doing and they head out for lunch.
This is my partner and my perspective of  learning what a normal day looks like for the ASB Students at Sepulveda Middle School.